There is something very special about handmade items, isn't there? Probably all of us have a handmade item (or more than one) that means a lot to us. I can't think of a more 'homey' way to welcome our new subscribers than with a giveaway- of handmade items! I've enjoyed putting this together so much…that we might just make this a semi-regular thing around here! 🙂
I'd like to hi-light a few gals I know who make some fabulous handmade items. They have all graciously offered to giveaway some of their beautiful items to YOU, and they would LOVE it if, in return, you took a peek at what they have to offer…and maybe even place an order.
So, without further ado, let me introduce the sponsors of our "I Heart Handmade" Giveaway:
 Alisha

 and I went to college together. She was one of the first people to notice and tell me that my (then future) husband was sweet on me. I think I'll dare to admit that she knew it before I did! 😉 We've been FB friends since college, and I always love seeing her newest handmade items come up in my news feed! She has a large selection of simply

adorable

handmade items in her etsy shop,

A Little Rosie Bowtique

. Her little girls are always sporting something beautiful that their Mom made! She makes adorable dresses and hair accessories, crocheted hats and baby blankets, and various other beauties! Also find Alisha's shop on

Facebook 

 and Twitter (handle: @alittlerosiebow. Find her on Pinterest using the name 'Alittlerosiebowtique.'  She has graciously offered to give away a headband and bow set to one of my readers! Take a peek: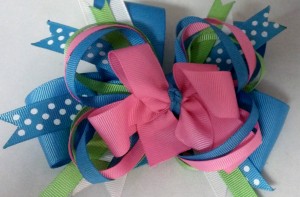 Nicole

 spent a crazy week at our house one Canadian winter (oh, the snowy memories we have!). She and her family now live in Nova Scotia, where her dad is a pastor. Nicole can often be found at her sewing machine, turning out some really lovely things! I've kept my eye on her shop, and I really like her fabric choices! She offers a variety of items, and even does custom orders. (I'm still secretly hoping she'll make me one of her tote bags for my birthday-it's in June, btw.) 🙂 Ahem….Anyway, she blogs at

A Living Sacrifice

 and often shows off her newest items there. She has an etsy shop called

So Sew Organized

 where it's all for sale! Also find her on

Pinterest 

and

Facebook

. She recently sent me one of her newly designed tablet sleeves for review. I

love

it! My Blackberry Playbook is sleeping soundly in it as I type. 🙂  Nicole has kindly offered to give away one of her newly designed tablet sleeves of 

any size

to one of my readers! Take a peek at mine to see what you'll be getting:
A few weeks ago I placed an order from

Sabrina

at

Sweet As Can Be Creations

. I had seen some of her new hats come up in my FB feed, and I instantly fell in love with them! I bought this adorable little hat (or is it a girl?), and everywhere we go with Tiny Daughter sporting it, it gets rave reviews! Isn't it ca-ute?!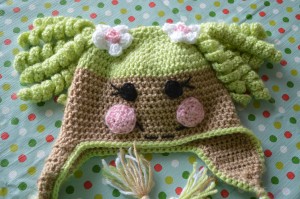 That's just a teaser to give you a peek at some of the crocheted items she makes! Sabrina has offered to give away a hat and booties set to one of my readers. No, make that a hat and crooties set! She describes the set as a "Rainbow Granny Hat w/ matching Crooties. These are for 6-18mths. The hat measures 16″ around and the crooties measure 4.25″ for the foot length. These are made w/ light weight yarn and great for the spring!" Find her shop, Sweet As Can Be Creations, on Facebook!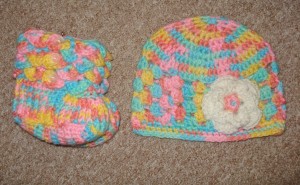 Stephanie and I first met in 2004 when I came up to Canada on a missions trip. She was one of the wonderful kitchen helpers that week who helped keep the team well fed. 🙂 We just recently re-connected online and I discovered that has a shop called My Little Sweet Pea Bowtique

. She tells us how she got started crafting her gorgeous hairbows:

"I started making bows shortly after my first daughter was born.  I couldn't find the type of hair accessories that I wanted, so I decided to make them myself.  After 6 months and many, many bows, I started making them for others too.   At My Little Sweet Pea's Bowtique we strive to make and create a top quality product that you won't be disappointed in.  We know you don't want to always be fixing your daughter's clips because they are sliding out, so the non slip grip we have chosen to use is second to none.   When you put our clips in your daughters hair you can be assured that they will stay where you put them!

   You can find Stephanie's shop on

Facebook

 as well as at

StorEnvy

. Here's a peek at the  beautiful bow set she is giving to one of my readers: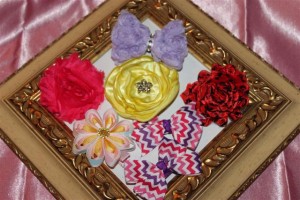 The items these gals are offering for giveaway are each valued in the $20-$25 range. This is some serious sweetness from them! So, do them a favor and visit their shops and leave them some comment love, or better yet, place an order! Don't forget to enter the giveaway below! Entries from USA and Canada only accepted (I'm sorry to the rest of you- maybe next time you can get in on the goodies!).
We're keeping the entry ways simple this time around.  Using the rafflecopter, there are several ways to get multiple entries! The only mandatory entry is that you have to leave a comment right here on this post.  Like, you have to. 🙂 I want to hear from YOU! Tell me what makes handmade items special to you, and which of these sets/items you would like to win! The giveaway ends Monday, March 25th, when FOUR winners will be drawn and announced! Ready, set, enter!