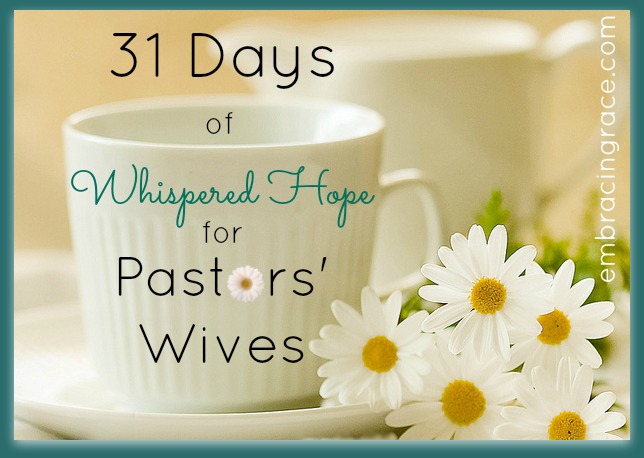 Dear Pastor's Wife,
Psalm 147:3 "He healeth the broken in heart, and bindeth up their wounds."
     I know you've been brokenhearted lately over some things that have happened to you and around you in ministry.  Ministry grief can leave our hearts gutted and robbed of any spark of hope. I remember when we left our first ministry. I didn't expect the grieving process to be so long and painful for my husband and myself.
The future looked as empty as our hearts were.
We no longer had people to love, and some of the things that happened after my husband's resignation were hard to process. For me as a pastor's wife, the pain went so deep that I wasn't sure that I even wanted to be in ministry again.
      And so began the process of making right choices regardless of feelings, and desperately asking God for direction. And gradually, a pinhole of hope appeared. There was life after resignation. God did have a wonderful future planned for us. That black hole of nothingness was just a curtain, and God was pulling it back in His perfect time.
      Meanwhile, He was healing our hearts- sending people into our lives to bless and encourage us, even to guide us toward the right decisions about the future. He was re-growing in my heart the desire to have ladies to minister to again- amazing how God did that! Also, it was at this precise "in between" time that God lit the fire in me to encourage pastors' wives. My eyes were open to the things that we face, and I knew I wasn't the only one who needed a life line. All of this was part of God's healing and restoration process.
     I don't have time or space in this letter to tell you all of the ways that God bound up our wounds and healed our brokenness. I just want to make sure you know that He wants to and promises to do it for you, too.  Bury your hopes and dreams, shattered as they may be, into the bosom of your loving God.  And then notice- a little here and something over there- yes, that was God!  He's soothing your pain and infusing you with renewed hope and strength.
     The future is as full as God's heart is.
XOXO,
A Kindred Spirit
P.S.  I'm praying for you today! You are going to be ok.