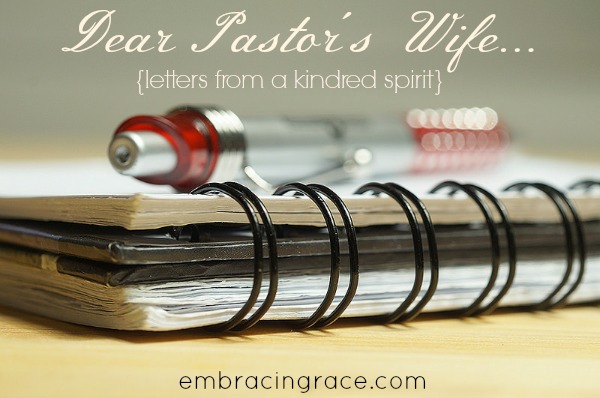 Dear Pastor's Wife,
I need to share my heart with you about a specific topic that is gradually changing my life…. because I believe it can change yours too. You're in the trenches now, and weary. But you're faithful and hopeful. And you believe God. You believe He's good- maybe you fight for that belief.  But you are hungry and thirsty for abundance, for extravagance, for the deep and settled belief that all of the un-extravagance is worth it.
ex·trav·a·gance: 

excessive elaborateness of style, speech, or action; lavishness, lack of restraint in spending money or using resources
About a year ago this month, I prayed something that I had never prayed before. As I rounded the corners of our cozy neighborhood on my morning walk, I said "God, I know You're good. But I want to see Your extravagance in my life."  Like you perhaps, I know a lot about the extravagance of pain in childhood….ministry….life.  But extravagance in the positive sense? I felt that I had little experience there.
Little did I know how barely I was even believing that God was good (let alone extravagant), and that He had been good to me my whole life long, starting in childhood. There's no way to convey with words what God began to do in my life- but He used the summer and fall months to take me on a journey (part of it was actually geographical) back in time, pin pointing the times and places when and where He had been good to me. Many of those memories were extremely painful. But many were surprisingly not painful. It was as if He was saying "You don't really yet believe I've been good. And in order to see My extravagance, You need to see my goodness." No one could have done it better than Him, and His tender ways moved me deeply and changed me profoundly.
I mostly forgot I even prayed that prayer and it wasn't one I kept repeating. God had me zeroed in to focusing on believing He had been good. But through this He was setting me up to receive His extravagance.
At our pastors' wives conference this past fall, God poured out His extravagance in SO many ways- so many I can't even list them here.  His gracious Spirit was free and evident to myself and many who came to me and said so. He had moved on the hearts of people I didn't even know who gave generously with their funds and with gifts of all kinds. He had caused several publishing companies to give me books abundantly and more than I asked for. He did far above what I could have asked or thought up for myself.
But do you know what struck me most about His extravagance? It wasn't extravagance for myself, but extravagance through me to others. All of His extravagance was placed in my hands- I was simply the steward, a channel- and I got to pass the goodness along to 45 precious pastors' wives who needed a little of God's extravagance themselves. I'm still in trembling awe when I think of all that He allowed me to give, and how I never thought I would ever even have that kind of emotional and spiritual and financial/resourceful reserve to pour out.
In the past year, I've had my eyes wide open to God's goodness in ways I never have before. I keep a journal of His provision and goodness- but really it's a journal of His extravagance. I see it everywhere now, and daily.
Having our eyes opened to the extravagance of God leads us away from cynicism and into deep gratitude for what already is.
I've learned along the way that God has always been extravagant with undeserving, sinful, weak and helpless me. His extravagance is inherent in the Gospel (that's an amazing topic for another day).
God is not only good. He is extravagant. With me. With YOU. I think most of us would at least give lip service that God is good. But extravagant? Maybe it makes you cringe.
You may be in a dark season now (they can last long years) and the only extravagance you know is pain. The very idea sparks a cynical reaction that you strive to keep from rolling off your tongue. "God? Extravagant? You've got to be kidding me. I think He's working against me. Sometimes I think He must hate me. I would never give this kind of pain or this much pain to my child." 
Friend, hang on. True that it's about knowing and loving the extravagance of His character, and not all about what God can do for us.
But sometimes it IS about what He wants to do for us in His love and tender care.
And when He does, it will blow your mind. You may not even recognize His hand doing it in the moment- But one day your heart will wake up and exclaim with a deep resonating belief that "GREAT is the LORD, and greatly to be praised; and His greatness is unsearchable." Psalm 145:3
And try as you might, you won't be able to fathom the extravagance of His love- an answer to prayer, a dream come true, a soul saved, knowing God more intimately- I don't know what it will be for you, but I do know that it will drive you to worship Him Who is worthy. It will leave your soul in unquenched awe.
And that's the way it's supposed to be.
You might suddenly remember a feeble prayer once prayed from a dark place, and your heart will say "Oh. God! YOU ARE extravagant. To ME."
XOXO,
A Kindred Spirit