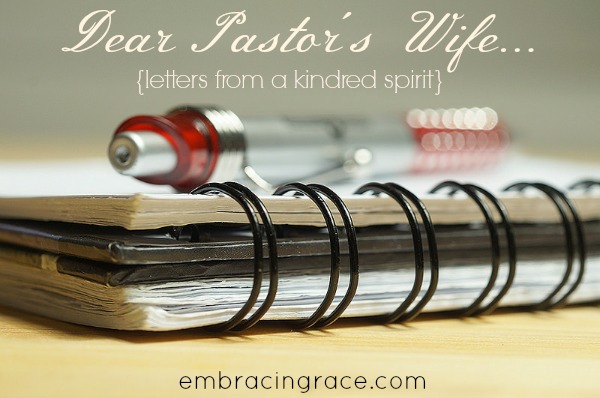 Dear Pastor's Wife,
Have you ever been basking in joy and anticipation, only to find the joy muddled up by tears and pain? I have, too. And I've thought ruefully, "The memories of this event/occasion will be ruined forever by the sadness that overshadowed the joy." 
One of these occasions for me was just over four years ago. After working for years on the progressive steps of becoming Canadian citizens, the prize of citizenship was within our grasp. We had studied for months out of our booklets, and had worked through scores of practice tests online to make sure we were ready for the 20 question exam we were scheduled to take.
Our anticipation was high….until a meeting after church one night brought the shadow I mentioned earlier. We knew about the meeting, but none of us anticipated the severity of the erupting emotions and mental acting out that we experienced, No one anticipated the brutal lies, the malicious intent that lasted for hours and barely let us get a word in. The meeting left us reeling- so much had been said. People we loved- our dear ministry friends- were quoted as having spoken against us. Motives were challenged and our character was demoralized. At times during the meeting, I felt as though I would collapse physically. My heart rate was out of control, and adrenaline was rushing in overdrive.
Hours later, when we were finally released from that ungodly scene, we stepped into the foyer of the church to go home. A fresh snow had begun to fall outside. I noticed that fresh snow- a new layer of winter- had settled over my heart too. I was again recognizing the effects of ministry trauma – physical, emotional, and spiritual- that only pastors and wives understand.
We sat on the couch at home, stunned at what we had just experienced. My husband sent our other pastor a message, "We feel like a piece of raw meat." 
We passed a completely sleepless night. Hours ticked by as we cried and prayed and immersed ourselves in Scripture. I even called a dear friend who was halfway across the world. It was 3:30 AM for us, daytime for her.  I just needed to hear a soft voice from another human. I still remember how her voice fell on my scraped-raw ears like fresh dew on a field of new spring  grass.
This seems like a good place to mention that this night was the night before our citizenship test. The night we planned to get plenty of rest and put in some extra study time. But we couldn't focus on anything other than what we had just endured.
Early in the morning we began calling some of our ministry friends who had been quoted as speaking against us, and were relieved to hear that none of it was true. Still the heaviness of the  unresolved mess clung to us, constricting our stomachs and making it impossible to eat and hard to breathe. We traveled to the government city to take our test. I took it, barely knowing what I was even reading. Seconds after I put my pencil down and turned in my test, my mind went blank and I could not repeat a single question that had been on there. I've never since been able to recall a single question from the test. I went into the hallway and laid on the floor, empty from exhaustion. I said to my husband, "I don't think I passed."  He sighed helplessly. The re-take process was not a happy thought.
By some miracle, we found out in our interviews later that day that we did pass, and with high scores. I knew God had taken that test for me. No question He had taken complete control of my mind and my pencil.
Back at home, we made more phone calls and produced a few emails as proof against what had been said in the meeting. The next morning we took it all in to the other pastor. Most of the time God doesn't work on our timetable, but in this case He chose to vindicate us in 24 hours time. All of the accusations were proven to be false and the lies were clearly exposed. In many ways this was just the beginning, but for us it brought a measure of immediate closure.
Why do I share a small part of this complicated story? Several reasons, I guess. I know that you can relate- you've been there, in that meeting. Same pain, difference faces. I share it because God writes our stories, even the excruciatingly painful parts, and He gives us hope through His grace in our stories, so that we can share that hope with others.
I also share it because tears, pain, and fear shaped this memory of our once highly and happily anticipated citizenship test and ceremony. And for a long time I thought that tears, pain, and fear would always shape this memory. But I was wrong. The joy has shone through. It has LIVED, like a resurrection after a death. The JOY chased away the shadows. It took time (and is still taking it) and heaps of grace, but the sorrow did not prevail upon this memory like I thought it would.
Today I shared some photos and a remembrance post on Facebook, highlighting the still-exciting fact that four years ago this month, we were sworn in as Canadian citizens.  I also shot off a couple of texts to friends who tested and swore in with us: "Happy citizenship day! Four years for all of us! What a wonderful day that was!"
And that's when it hit me. This memory- one of the happiest accomplishments of our married life- was birthed in tears, but is now only and always a joyful remembrance.
It's true,  my mind can never think of this memory without thinking of the pain that birthed it.  But in my heart, the memory is all joy and extreme gratefulness to God for the gift of dual citizenship (and it's continually proving itself to be part of His plan in practical ways as we head to South Africa to church plant.)
I wonder….what memory do you have that is such a deep joy to you, yet if you recall, it was birthed in fear and pain and tears? I know that many (if not all) of you identify with the way pastoral ministry calls us to embrace joy and pain simultaneously. At times we lean heavy on the remembrance of pain. At times we lean heavy on the remembrance of joys. But shining through, always the memory is in remembrance of HIM- His wonderful works to us, as His children. His grace abundant in times of trial and heartache. His Word, our sustenance. His name, our comfort.
And somehow….I think He planned for Himself and His gifts to triumph over the deaths that shape our painful memories. Like a resurrection of joy where one least expects it. Like a memory of all joy where one was most certain it would always be clouded by the shadow of pain.
Take heart, friend. The oil of joy can only be poured in AFTER one begins to mourn.
XOXO,
A Kindred Spirit
Isaiah 61:1 " The Spirit of the Lord God is upon me; because the Lord hath anointed me to preach good tidings unto the meek; he hath sent me to bind up the brokenhearted, to proclaim liberty to the captives, and the opening of the prison to them that are bound;
2 To proclaim the acceptable year of the Lord, and the day of vengeance of our God; to comfort all that mourn;
3 To appoint unto them that mourn in Zion, to give unto them beauty for ashes, the oil of joy for mourning, the garment of praise for the spirit of heaviness; that they might be called trees of righteousness, the planting of the Lord, that he might be glorified."