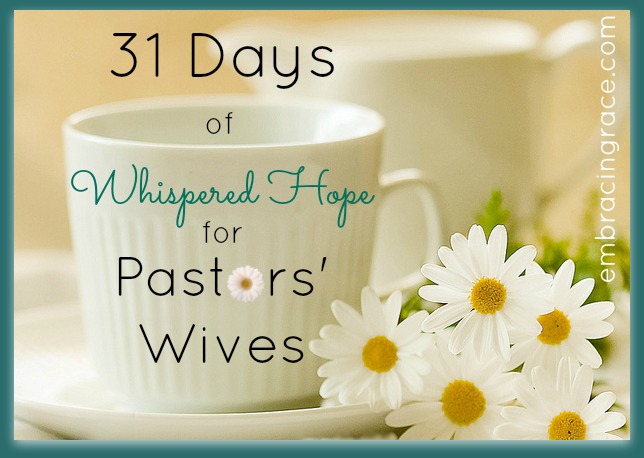 Dear Pastor's Wife,
Psalm 126:5-6 "They that sow in tears shall reap in joy. He that goeth forth and weepeth, bearing precious seed, shall doubtless come again with rejoicing, bringing his sheaves with him."
     I know you've been discouraged lately because you feel like you do more sowing than reaping. Ministry is like that- you sow in this person's life, then in that person's life. You sow in the lives of crowds, both big and small. Whether it's at a ladies meeting or a youth event or just your regular conversations with people before and after services- you sow. And you know it. But the reaping? Ah….a different story.
That's because the full impact of reaping is invisible.
      Maybe you have gone months, even years and you can't find much to grab hold of in the area of reaping. Many of you have gotten discouraged and perhaps even left a ministry because nothing was changing and you felt useless. And lest I exclude myself here- we have ALL been there at one time or another. Why do we see so little reaping in our little corners of ministry? After all, God promises to bless those who follow His will. Who knew that the blessings could seem so skimpy at times?
      My husband and I just hosted a big youth missions conference this past weekend. It was a huge success from all outward appearances. On Sunday several people asked me if there were decisions made over the weekend. My answer? "I don't know." We didn't really push for decisions. And on Saturday night after it was all over and the food was put away and the dust bunny families were shooed back into their homes, we tumbled back into our home. I promptly fell asleep on the couch and later awoke with a renewed spirit.
       "You know," I told my husband, "These events are the type where you don't see results until years later. Then someone comes up to you and says 'It was at that youth conference that I dedicated my life to the Lord and now I'm heading to the mission field.'"
         The longer I'm in ministry, the more I'm okay with that. Actually, I'm more than okay with it. Dear pastor's wife, you and I and our husbands and children- we are sowing into the soil of eternity. Only God can reap the full harvest. And it's going to be in heaven.
         Sow a few more seeds today. It's okay to weep while you do it.  And….prepare to be amazed. Because those tears will be tears of joy someday.
XOXO,
A Kindred Spirit
P.S.  I appreciate the way you give yourself to others!