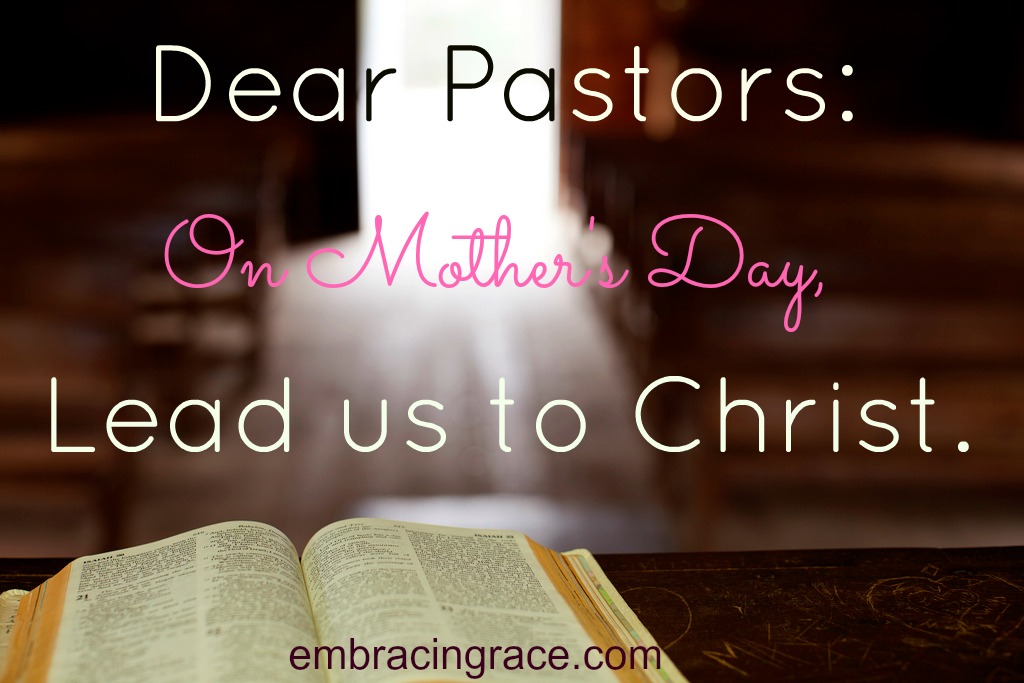 Dear Pastors,
You are under pressure often, but this weekend brings a unique challenge. It's Mother's Day. And most of the women of the western world have expectations about what will take place at church on this day. If they don't have expectations, they certainly carry in dreams and heartaches.
We are all brokenly desperate to be included, to be cared for, to be embraced in our unique circumstances.
The barren women need to know they are loved and accepted- that others will grieve with them….pray for their arms to know their own children.
The women who miscarried need to know there is healing from the pain, hope for new life.
The women who had the size of their families taken out of their own hands need to know that one is enough, or two, or six.
The women who buried children need to know that the ache doesn't define them, that there is solid hope of reunion.
The women who had abortions need to know there is forgiveness and restoration, that they aren't on God's black list.
The women who have a prodigal child need to know that their breaking heart has a purpose, that there is hope of return and restoration.
The women who never had involved mothers themselves need to know that someone will mother them, that the little girl inside can stop searching and finally rest.
The women who had dysfunctional families need to know there is hope to break the cycle of abuse and emotional damage.
The women who have fostered and adopted need to know that they are as much mother to their children of the heart as were the mothers of the belly.
The women who never knew their own mothers need to know that they are wanted by someone.
The list is long, and in some cases, so are the expectations.
Maybe it's hard for you to understand, because Father's Day isn't as big a deal to men as Mother's Day is to women. This day evokes the strongest and best and worst of emotions. One woman will leave your Sunday morning service elated, grateful, beaming and satisfied. The other will leave disappointed, concealing deep pain, possibly angry and definitely unfulfilled.  And it changes from year to year….how women feel about this day.
Which is why I am writing to release you from the pressure of fulfilling from the pulpit the hopes of women on this day. But there is something you can do for us- the very best thing that will unite us no matter what our circumstances are.
If we look beyond the individual circumstances that surround motherhood, and just see women, something very different comes into view.
We may be mothers, we may be not mothers, but we are all women with one great need- Christ.
And this is what we ask you, beg you to do for us this year on Mother's Day- Lead us to Christ.
Because Mother's Day is about Christ. It's about how He is working His individual will in each of us in unique ways, ways that challenge the deepest parts of us. It's about embracing Him at all points of life, the ones we understand and the ones that cause us to feel profoundly lost in this this transient, unpredictable existence.
He knows. He KNOWS. Scattered throughout His Word are precious promises to women about the character of Christ. Give us those. Shepherd us to take our eyes off of ourselves and our circumstances and our control. Take our hands and point us to Christ. Remind us how desperately we need Him in order to mother, to not mother, to be a Godly woman. Remind us that Mother's Day is not about us- it's about Christ.
I have a mother. I am a mother. I am grateful. Yet I have empty, deeply painful places just like everyone else.
This year, on Mother's Day, remind us that He hasn't forgotten about our painful, empty places- that He wants to fill those with Himself.
Remind us that our only source of comfort and fulfillment is in Christ.
"Can a woman forget her sucking child, that she should not have compassion on the son of her womb? yea, they may forget, yet will I not forget thee." Isaiah 49:15
No matter what is going on in our lives this Mother's Day, we would see Jesus. We don't expect you to cover all the bases or be all-inclusive. But we do expect you to lead us to Christ. If we embrace Christ, we will leave as fulfilled, grateful women.
~A Woman
Nearer, my God, to thee,

Nearer to thee!

E'en though it be a cross

That raiseth me.

Still all my song shall be

 Though like the wanderer,

The sun gone down,

Darkness be over me,

My rest a stone,

Yet in my dreams I'd be

There let the way appear,

Steps unto heav'n;

All that thou sendest me,

In mercy giv'n;

Angels to beckon me

Then with my waking thoughts

Bright with thy praise,

Out of my stony griefs

Bethel I'll raise;

So by my woes to be

Or if, on joyful wing

Cleaving the sky,

Sun, moon, and stars forgot,

Upward I fly,

Still all my song shall be

(Chorus)

Nearer, my God, to thee,

Nearer, my God, to thee,

Nearer to thee!

{Text: Sarah F. Adams, 1805-1848

Music: attr. to Lowell Mason, 1792-1872}