Three heads bend low over a first grade science book.  Small Son and Tiny Daughter listen eagerly as I read simple facts about their bodies.
Turn the page. I read about hair, then hands, fingers… fingerprints.
Tell them that God made each person in the world to have a different pattern in their fingerprints. (Have you ever pondered that long? It will blow your mind!)
An activity idea stares up at me. I know I can't pass up this opportunity to teach my children something about their God. Out come the ink pads, blank index cards, and hot water.
We stamp. Different colours. Different fingers. Several times. The young braves are amazed at appearing designs, so long hidden in their fingers.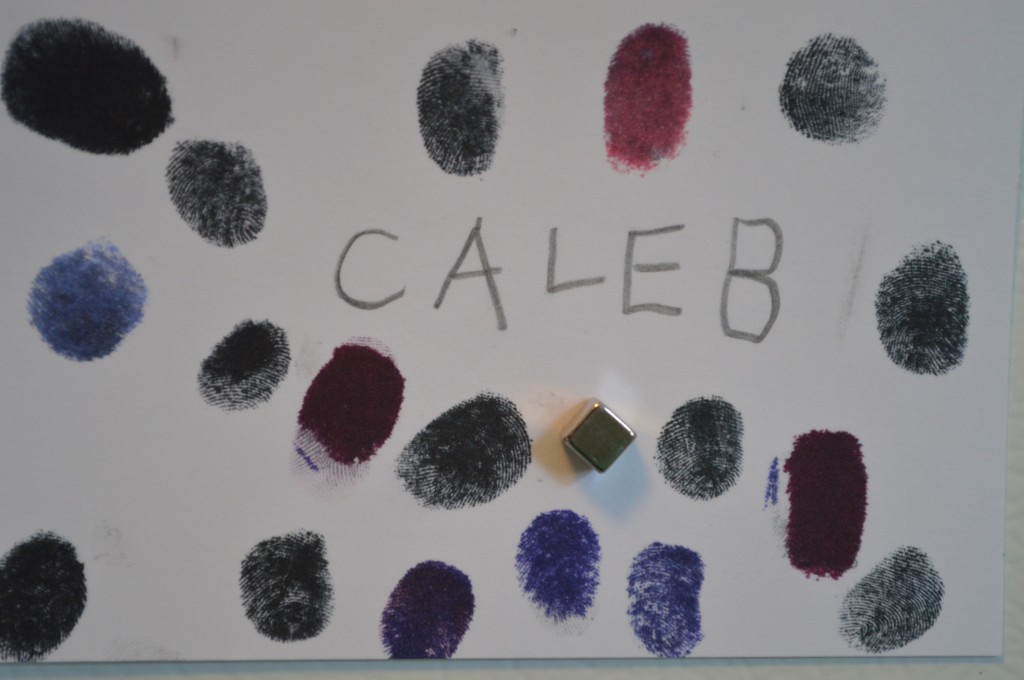 Tiny Daughter pushes too hard on the ink pad. She happily makes blobs of colour. I tell her that "it's ok- God still knows your print."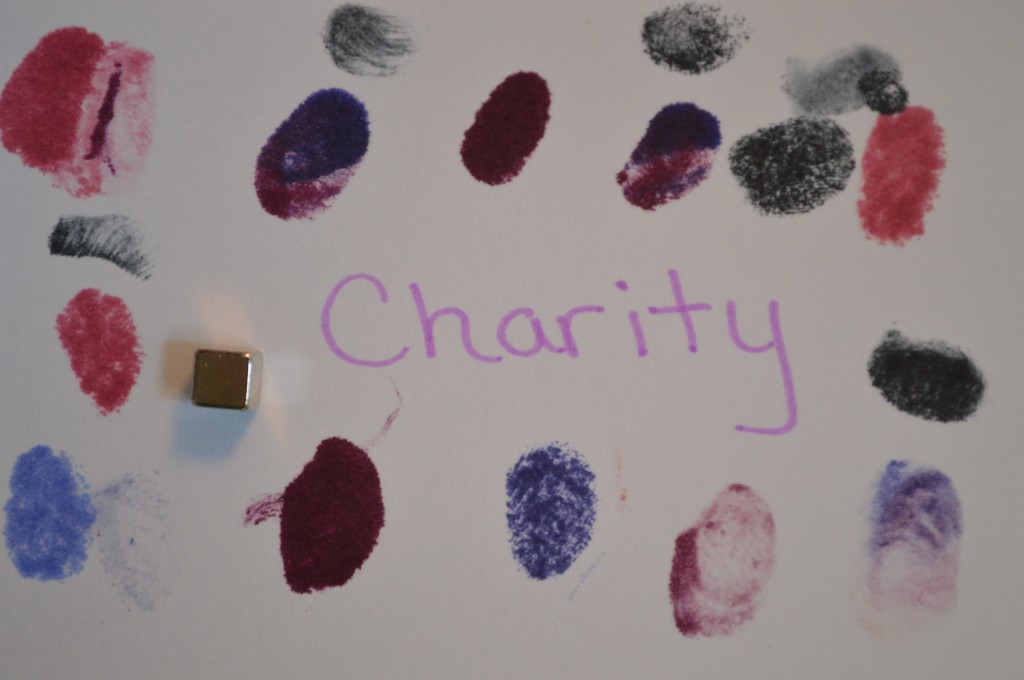 I make one, thinking "I've forgotten what mine look like." I am overwhelmed, first at the returning thought that my print is unique.
Then I notice something.
My prints have no pattern. "Why not?" I wonder.
I peek at my fingers, as if to discover some malady that has erased all trace of a fingerprint pattern. I imagine myself to be the first person in history who has a disappearing fingerprint. I wonder how this will affect our citizenship application, and how they will trace the crimes I haven't committed.
What I see makes me smile. My fingerprints are completely distorted because of dry skin. Hundreds of tiny skin pieces create a new pattern of chaos on my fingertips, taking away evidence of my God-given pattern.
Why does that make me smile?  Well, it means I am a wife, a mother. It means I've washed hundreds of dishes (again) and hundreds of loads of clothes (again), and have cleaned a few washrooms (again). It means I've cooked a few (thousand?) meals and have washed my hands way too many times after changing a few (hundred?) diapers and wiping up countless messes.
And yet through it all, my God knows my print. He designed it when I was being created, and even though the labour of this life smudges it's clarity, He knows what it is.
Furthermore, He sees my fingerprints on so many things in this life He's given me….He sees the fingerprints of His child on her Bible, of a wife on a husband, of a mother on her children, of a pastor's wife on a church family, of a piano teacher on her students, of a soul winner on those to whom the Gospel has been shared with…and the list goes on and on. (What's yours?)
The thought that blessed me to my core was this:
God sees my fingerprints on every life, on every thing that I touch in service to Him.
Yes, it gets monotonous (especially the housework!). And yes, it's often thankless.
But I know my God sees my (scarred) fingerprints, and I know that He loves me.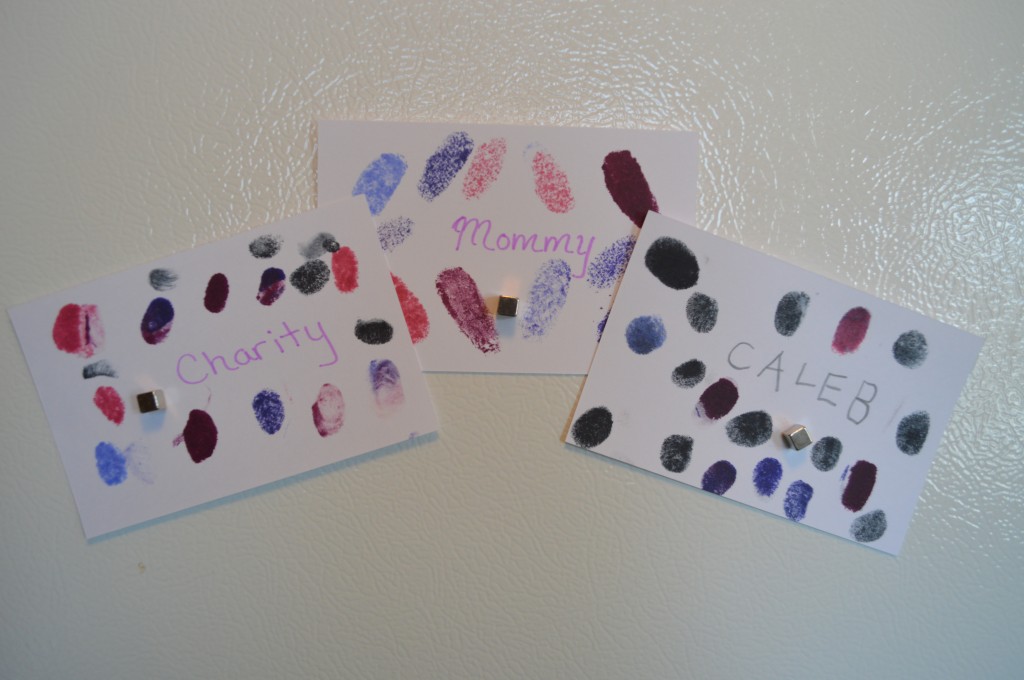 You know what? He sees yours too. I like to think that He looks down and sees fingerprints all over the earth- glowing. And He knows who's been where, and when, and why, and how.  Is there a stronger word for grace than amazing? 
Someone very special has left His fingerprint on the world…Jesus Christ. I love Hebrews 1:3, which tells us that "Who being the brightness of his glory, and the express image of his person, and upholding all things by the word of his power, when he had by himself purged our sins, sat down on the right hand of the Majesty on high."  The phrase "express image" means "an exact typeset."  Hmmm, kind of like a fingerprint. Jesus Christ, the fingerprint of God on the world. My salvation, the fingerprint of Christ on my life.
I don't know about you, but I often need a special and personal reminder that God loves me...that He, in mercy and grace, has stamped His fingerprint on me, and that I am part of His chosen bride. I need the reminder that He sees what I do for Him, big or small, and that it matters. Really matters. 
Maybe, just maybe…you need that reminder too.